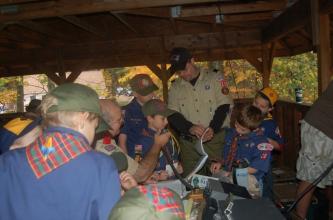 JOTA Rules-
Stations should call "CQ Jamboree," or answer stations doing so. Any authorized frequency may be used. It is recommended that stations use the agreed World Scout Frequencies, listed elsewhere in this document. To avoid congestion, use close-by frequencies.
JOTA is not a contest. The idea is not to contact as many stations as possible during the weekend.
All participating groups are asked to send a report of their activities to their National JOTA Organizer (NJO). The BSA address is
jota@scouting.org
. You'll find a report form to download on the BSA JOTA web pages.
Although the worldwide JOTA is organized in October, Scouts can meet on the air at other times during the year. Regular Scout nets (a pre-arranged time and frequency when operators meet) are organized nationally or regionally. An updated list of these nets can always be found in the latest World JOTA Report, which is published by the World Scout Bureau.
What is JOTA?
When Scouts want to meet young people from another country, they usually think of attending a World Jamboree. But few people realize that each year more than half a million Scouts and Guides "get together" over the airwaves for the annual Jamboree-on-the-Air (JOTA). The World Scout Bureau reported that the 2010 JOTA had just over 700,000 Scout participants from nearly 6,000 amateur radio stations! Modern technology offers Scouts the exciting opportunity to make friends in other countries without leaving home. JOTA is an annual event in which Boy and Girl Scouts and Guides from all over the world speak to each other by means of Amateur (ham) Radio. Scouting experiences are exchanged and ideas are shared via radio waves. Since 1958 when the first Jamboree-on-the-Air was held, millions of Scouts have met each other through this event. Many contacts made during JOTA have resulted in pen pals and links between Scout troops that have lasted many years. With no restrictions on age or on the number of participants, and at little or no expense, JOTA allows Scouts to contact each other by ham radio. The radio stations are operated by licensed amateur radio operators. Many Scouts and leaders hold licenses and have their own stations, but the majority participate in JOTA through stations operated by local radio clubs and individual radio amateurs. Some operators use television or computer-linked communications.
When does JOTA happen?-
JOTA is held the third weekend in October of each year. JOTA takes place starting Saturday at 0000 hours local time (12:00 AM) to Sunday, 23.59 hours local time (12:00 PM), though some activity continues over from Friday to Monday to take advantage of long distance (DX) time differences.
Register your JOTA activity here
http://www.scouting.org/jota/registered_stations.aspx